No no, it doesn't have to be bright copper kettles and warm woolen mittens, but this is just a thread to talk about things we all like!

Like the game corner, i'll change the subject once a week to keep things fresh!

For the first query, let's see what everyone's favorite Batman characters are, in keeping with the theme of the site! Feel free to post as much or as little as you like on the matter, you can rattle off a a pragraph, a whole damn essay, or just make a simple statement on why you love the character(s) you do. And most importantly, have fun!

My personal faves are;

Jason Todd (but i'm pretty confident most of you know this by now!)

Twoface (Yet another no brainer for you guys by now!)

Cassandra Cain (She's tough as nails, cute as a button, and her batgirl outfit is the BEST, in my humblest of opinions.)

Bane (Secretly I've always wanted to RP as big bad Bane- the powerful commanding Bane has a toughness and presence that goes with him and makes him hard to NOT like.)
I like the divide the trinity into three groups. Superman's value is Justice above anything. He is one of the strongest beings in the DC Universe and he refuses to kill any of his villains. Wonder Woman is the goodness and truth. She's the goodness in everyone, she embodies core values and is always crystal clear. Always holding the lasso of truth means she always tells the truth.
But when it comes to Bruce Wayne, while others may see him as an insensitive ass who can't comprehend human emotions, I believe he is the most empathetic character in the DC Universe.
Of course, I love Babs Gordon, she's my favorite comic book character of all time, but for the sake of this one, I have to appreciate Bruce. He defines empathy. He knows how the human mind works, and the best thing about him is that he believes in humanity. There came a time when he was a young man after his parents died, he was jumped and he realized the reason why Joe Chill killed his parents was not because he had something against Bruce or his parents, not because he was blood thirsty, but because he was desperate, not evil. He killed the Wayne's because he needed money and he was willing to go through any way possible to do it.
Bruce sees all his foes as extensions of himself, a facet of his humanity, doing the best that they can with the hand that they're dealt. The reason he doesn't kill is different from why Superman doesn't kill. Superman believes that Justice will be served no matter what, he is not an executioner. Bruce believes that even the most depraved such as the Joker, can be saved. Reaching out to by him stopping their criminal activities.
If you want some excellent reading material the Black and White story "Two of a Kind" not only shows an excellent side of Two-Face, but shows a wonderful side of Bruce.
https://www.youtube.com/watch?v=sKPLopZt6b4
While Mercy wrote a lovely excerpt on Bruce and how much of a wonderful, empathetic humanitarian he is. My own favorite is problematic at best. A living example of the lowest form of human trash at worst.
Roman Sionis is a vicious, evil and brilliant villain. Keyword brilliant! Don't let the more recent interpretations of him fool you.
This man is a efficient, merciless monster. But also---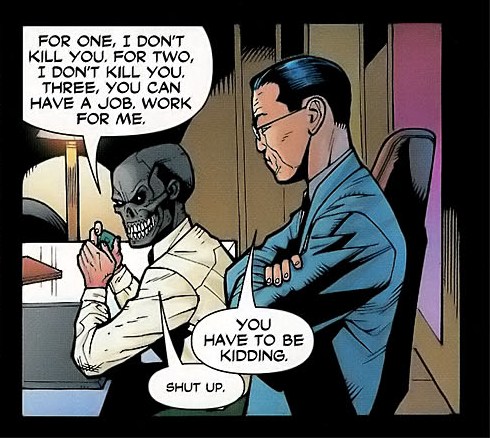 He is a fucking loser! In the best, most self-assured sort of way. Just look at this fuck face!!
Roman Sionis for Governor! Gotham 2016!
Admin




Posts

: 36


Join date

: 2015-01-05



Time for a weekly switch- up! For our new topic of the week, let's talk about our favorite....

FOOD!

What do YOU like to eat? Or make? Or whatever!

For me, I simply love rice! I don't care if it's white, brown, simple or complex, but I absolutely have rice as a must-have for almost every meal! I love it that much!
I can't pick a certain food I love the best, but I can say that if it's Asian food I will most likely love it. Vietnamese is my favorite! I even love shitty Chinese buffet food! GOLLY---do I love it.
Admin




Posts

: 36


Join date

: 2015-01-05



I like Italian food, but mainly it's cause I'm a pasta fiend. I too like crappy Chinese buffet food.
That is a hard question for a cook to answer...

I grew up on Cajun and Asian food so I've got some weird mixes going there. Learning how to make my own pasta changed the game though. I could go the rest of my life off just eating homemade pasta, though it would be a very short life indeed.

Also veggies.

Freshly caught whole roasted red snapper

Bread pudding with a vanilla bean brandy sauce loaded with raisins

Yellow Curry Chicken

Pop tarts

BREAKFAST TACOS

Tiramisu

carrot cake
sushi
turkey chili
croque monsieur
osso buco
new england clam chowder,eggs benedict, consumme, pancakes, migas
lobster somosas poboys adobo pansit etouffe
.
.
.
.
.
This is why I'm fat

Oh and crappy chinese buffet food is something I will never tell me chefs I love









Posts

: 25


Join date

: 2015-01-05



I, too, have an undying love for crappy Chinese buffet food.

But a week has come and gone, And I think we're due for a new topic! I think we should talk about our favorite...

BOOKS!
(Try to exclude comics if you can help it, I plan to have a separate category for those, but if you can't help it I don't mind!)

I could live a happy life if I had nothing but a volume of short sci-fi stories- stories like Driftglass and While You Were Away are part of what fueled my drive to go into writing after medical studies fell apart! I could read any one of those ten minute stories for hours on end!

Fahrenheit 451
What more can I say? It's a dismal book that draws some dark parallels to modern society despite it's age, all the more reason I can never bring myself to put it down once I've started!

The Diary of Anne Frank
What is there for me to say about this one that hasn't been said already? If you haven't read this one yet, my words just won't do it justice. A fascinating look into the mind and soul and thought.

(Now of course if I listed ALL of my favorites i'd be typing this post for a decade, but these are the biggies!)
Hmm, y'know, I've been thinking that over for a while since as of late all I've been doing has been reading comics. I like the Chronicles of Narnia, Fight Club, and I read a lot of Dean Koontz novels. Like Velocity, Life Expectancy, Dragon Tears, several books in the Odd series, and several books in the Seize the Night trilogy.
Similar topics
---
Permissions in this forum:
You
cannot
reply to topics in this forum